Sell, sell, sell.
As a founder, you know that cash is king, and the very air by which your company breathes. Selling and generating revenue is ALWAYS on your mind.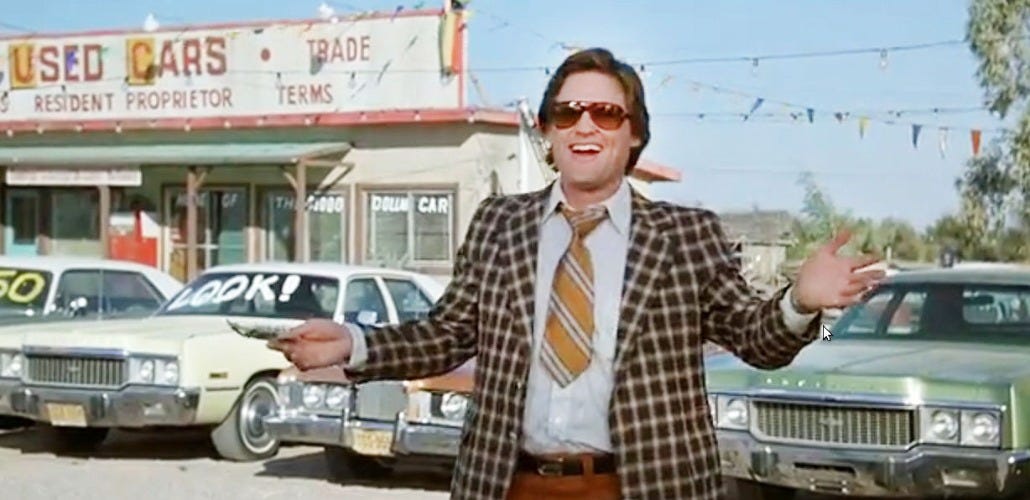 *Founders are constantly in selling mode. But avoid the used car salesman vibe.*
Everything needs to support sales. And, it's the very yardstick that founders use when they hire service providers.
Including publicists.
However, dear founder, beware of falling victim to the PR Mirage.
What's the PR Mirage?
Take a look.
A founder's up late at night. She can't sleep. She's pacing the floor. Her company bank account keeps sinking towards the red. Sales have stagnated. She grits her teeth and thinks, What the heck do I do?
Suddenly, a bolt from above! She's got the answer, and almost shouts with joy, because she's found the silver bullet that will nail customer acquisition and slam dunk all her sales problems forever. She goes back to bed with a smile on her face.
Her last thoughts before sleep are: PR. That's all I need. Some good PR.
And, the PR Mirage just claimed another victim.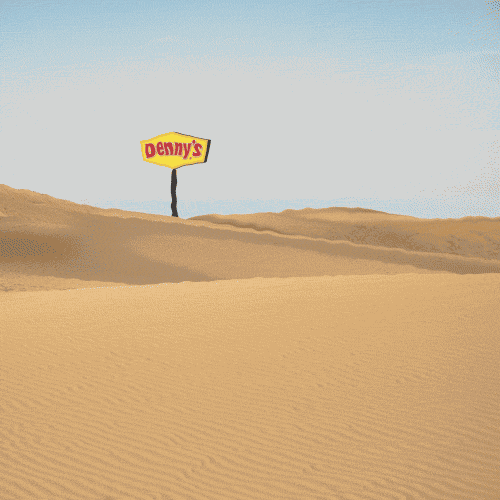 *PR for customer acquisition is like having a Grand Slam in the Sahara.*
You see, here's the problem, folks.
Public relations is NOT marketing.
Marketing promotes a product or a service to help sales.
Think of advertising: billboards, TV spots, Facebook/Google ads. Qualified leads, conversion rates, top of funnel. This is all marketing.
But, PR isn't a lead generation tool. It won't get your startup customers. Not in any proven way at least, and you better run from any fly by night, snake oil selling publicist who promises you otherwise.
For African tech startups, sales cycles can be very long. One of my B2B clients needs up to one year before closing a sale! So, it's impossible to tie let's say an article in CNN to an uptick in new customers.
*This is literally a slide in a PR 101 deck I used with clients.*
Rather, publicists help startups connect with investors.
What's our secret sauce? We influence public perception and sell reputation.
Startups are dying to get on the radar of strategic partners: investors, donors, multinational partners. These relationships make or break a business. To get on the radar of a Silicon Valley investor, a Mastercard, or Salesforce, startups need to stand out from the noisy crowd. Enter the publicist.
A publicist helps startups craft a story, ideas, and messaging that are big, bold, and provocative.
How many fintechs say that they're "banking the unbanked" or "driving financial inclusion"? Way too many. That story is tired, just like Blockchain. 😴
Victor Basta, an investment advisor who's worked behind-the-scenes with Twiga and Cellulant to close monster funding rounds, explained that perception is everything.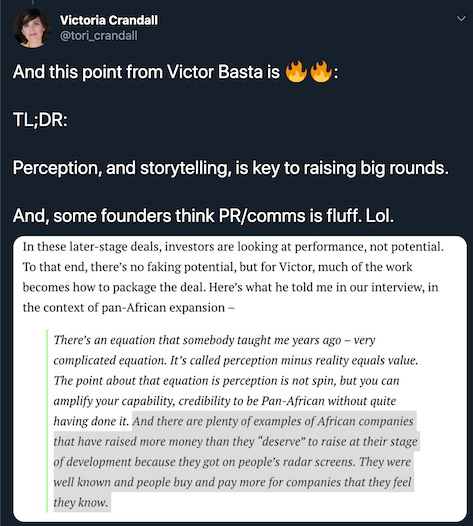 *What he said 👆🏼*
Marketers buy ads. Publicists work with the media.
If you want to score media coverage, your PR content (pitches, op-eds) CANNOT read like ad copy.
Journalists and editors hate, hate, hate to be sold to. They're allergic to self-promotion and product plugging.
They only cover startups if the story has a bigger WHY: it's a trend, first-moving, or the founder has a noteworthy story.

*Op-eds that plug a product are dead in the water. Take it from this editor.*
PR focuses on big, sweeping, exciting ideas. They can be hot takes, op-eds, blog posts, Twitter threads, or a brief personal anecdote about the rollercoaster ride that is being an African tech entrepreneur.
The next time you're thinking about hiring a publicist, just remember this:
PR aims to educate and/or inspire.
Not sell.
Until next time,
Victoria

**You'll receive 1 weekly email.
***I'd love to hear from you - what do you want to read on Africa tech comms/PR/media? Hit me up **@tori_crandall** on Twitter.
Victoria Crandall | African Startups | Comms & PR Strategist | Proud Dog-Mom of Gus | Lagos 🇳🇬